Navigate to Products -> Add Product.
General Information
Add a Title you want your product to be displayed as.
Input the Price of the product and select the currency from the drop down.
Add a Description of the product for customers to view, this supports Markdown.

Choose the Payment Gateways you wish for customers to be able to pay by. If Payment Gateways are blurred, these have not been setup in your Payment Settings.

Product Stock
Under the Product Stock section, select the Type of product you are adding. For a more detailed overview of Types, see our How to add stock to a product help article.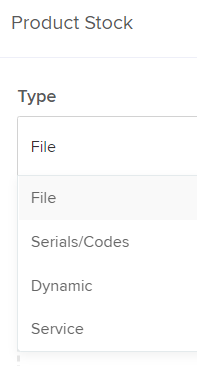 Customization
Customization gives you the option to change the Layout to Regular or Compact.
There are also optional fields to add an Image, Note to Customer, or Custom Fields.

Note to customer is displayed in the email the customer receives containing their purchased goods.
Custom Fields will be displayed when a customer is on a checkout page and can be made a requirement to proceed with the checkout process. E.g. Name - Input username, Type - Text.

Miscellaneous
In the Miscellaneous section a Webhook URL can be added, this is optional. For further information regarding webhooks, refer to the API documentation.
The number of Crypto Currency Confirmations can be set and the Max Risk Level.
Crypto currency confirmations are what determines when the crypto currency payment is considered complete by Selly and defaults to one confirmation. Some crypto currencies such as Ethereum will always have the required number of confirmations as six.
Max risk level is the maximum risk level that a customer can have before they will be blocked during the checkout process. We advise that you leave this at the default value of 30.
The options can be ticked in the checkboxes;
Unlisted - This product won't show on your user product page.
Private - Only viewable by direct link when you're logged in.
Block VPNs/Proxies - Blocks VPNs/Proxies.
PayPal Email Delivery - Purchased products are sent to the Paypal email rather than the email used on checkout.

Click Save Product to complete.